He.y,
Platform for men's mental health.
A brand focussing on giving men's mental health the attention it deserves.
Shockingly, 75% of the suicides in the UK are men. Most of these suicides are by those who have never contacted any mental health services before. The brand 'he.y' is designed to support all men with their mental health, and aims to make those who even have "bad days" feel validated. We all can experience mental health problems, even if we don't have a mental illness. He.y is designed to give men a place to go when bad days might arise.
He.y App opening
page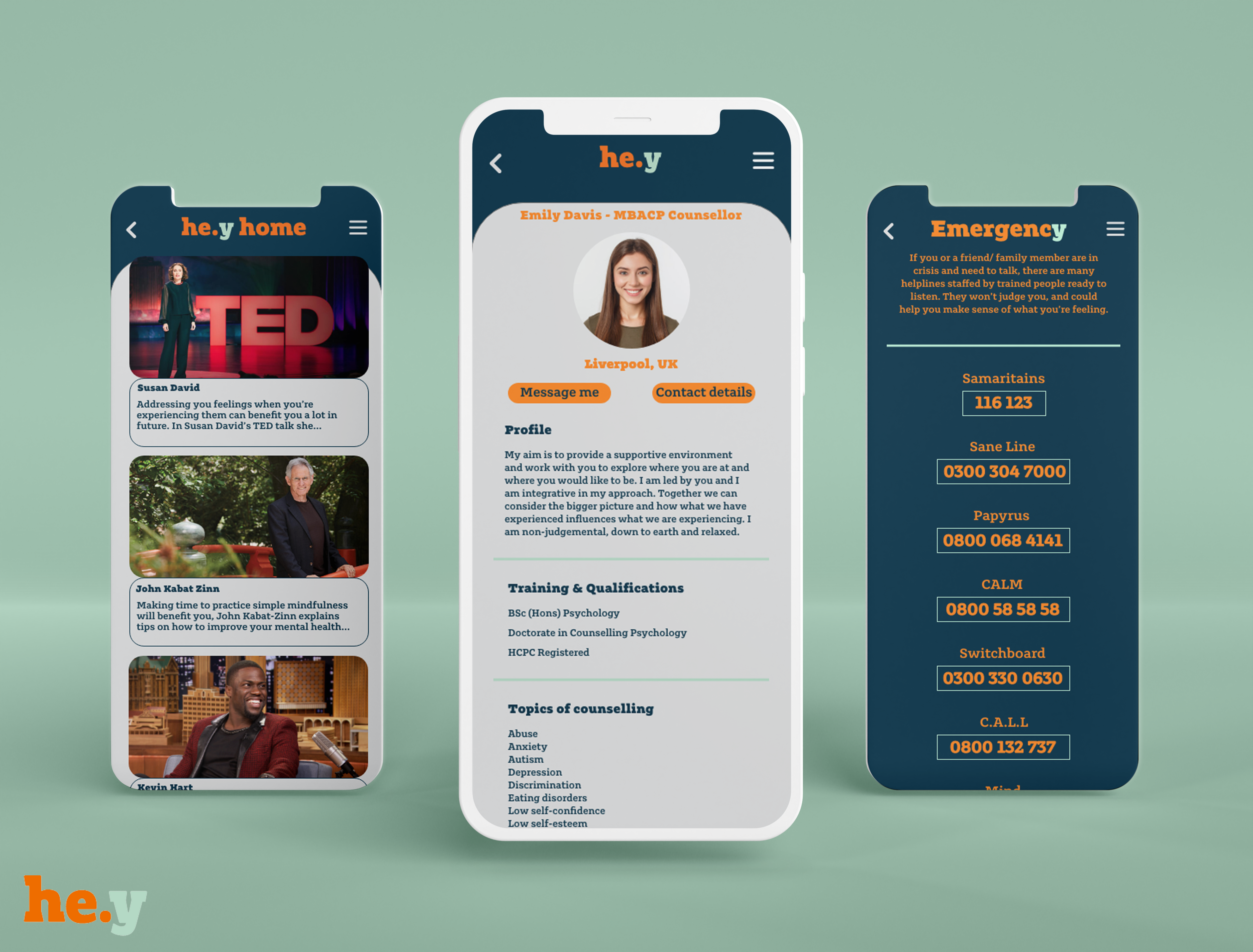 In my research, I interviewed several professionals including a counsellor. I found that many men are detered from seeking professional help through the NHS as many don't want it on their medical records. There are many stigmas attached with being a male and the problems within our society are what facilitate these stigmas, but by encouraging men to address their thoughts, on their own terms, we will be one step closer to helping the issue.

My app is completley anonymous unless the user chooses otherwise. I also created a name which was ambiguous and the help that is included on the Instagram account is directed to help everyone, even those who might not experience any moments of depression or anxiety. So it caters for a wider audience which will hopefully make men more comfortable and for it to feel normal to them, as it should be.






He.y Instagram sequence
He.y also includes an Instagram page, in which I created a series of different posts for, which cover different helpful tips. All of the information is from trusted sources online. There are posts which are just a singular post including positive material, as well as posts which is a series which the viewed slides through to gather more information.

Although this brand isn't going to solve the issue entirley of rising rates of depression and anxiety amongst men. I hope it sparks a conversation to get more people to talk about how they really feel. If that could be through an app then it is definitley a start.

He.y Instagram Home
He.y Advertisement piece